Sept 09 2006
Archived SKI Update
9/09/06
SKI Update Bold print in Tables highlights changes from the prior week.
Update Summary:
Current USERX price = 16.04
THE 92-96 INDEX SELL SIGNAL WILL BE GENERATED ON MONDAY 9/11/06 UNLESS PRICES RISE ON MONDAY. THAT WILL OFFICIALLY END THE BULL MARKET. It will be a double sell pattern.
Last weekend's Update was bullish, expecting a breakout to the upside from the short-term buy signals on 8/29 and 8/30/06. I re-read it now to make sure that I had written that a such a rise would generate short-term index sell signals and that prices had to go through those sell signals to the upside to avoid the 92-96 index sell signal (such a sell signal would end mechanical SKI's definition of a bull market). That's what happened this week, as prices broke above the prior USERX highs and other gold stock indices similarly did the chart technicians' definition of a breakout on the traditional day after the Labor Day weekend. But SKI still had the short-term sell signals that would be generated on any rise. Those sell signals were generated on Wednesday (9/06/06) as USERX went up for the 6th consecutive day (such a run can mark a high, but by itself, when it also marks a low, is 50-50%). I did not know whether the short-term sell signals would stop the market and initiate a great decline (the odds were truly 50-50), but Thursday's immediate hard decline off of those short-term signals strongly suggested trouble for bulls.
The 92-96 index is within one day of generating its sell signal. I wrote to shorter-term investors (alert subscribers) on Thursday that Jeff was selling 50% and then wrote to everyone on Friday morning to move to 100% cash. This coming sell signal is, of-course, consistent with the 5/17/07 Death Run. The bull market, according to SKI, is ending. MUCH MORE HISTORY FOLLOWS FOR SUBSCRIBERS.

September '04 to December '04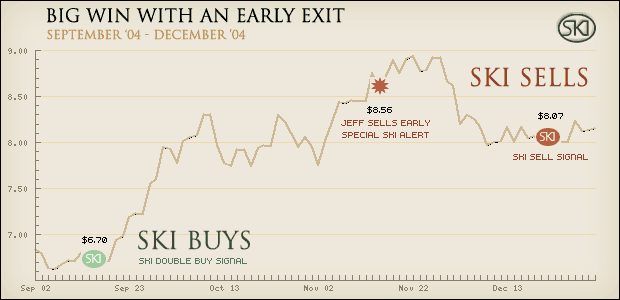 SKI BUY SIGNAL
SKI SELL SIGNAL
Jeff Sold
SKI Gain/Loss
Jeff's Gain/Loss
Double Buy Signal

Sep 17 04
$6.70

Add Long, renewed Buy
Nov 03 04
$8.01
Sell Signal

Dec 21 04
$8.06



Nov 15 04
$8.56

$1.36
$1.86

Jeff recommended to exit this trade a month early... a great move! Still, the Ski system was a winner. Here are the orginal SKI Updates for this trade:

» Double Buy Signal
Sep 16 04

» Renewed Buy
Nov 02 04

» Alert: Jeff Sells
Nov 21 04



© 2023 All rights reserved.
A publication of SKI Predictions