March 23, 2006
Archived SKI Update
3/23/06
BUY immediately. Everything that I have is now bullish. JEFF IS AT LEAST 100% LONG. The intermediate-term trend is supposed to be now be Up. The critical test of 12.92 was tested and held on Tuesday (3/21/06), the 10th day (exactly at half-cycle) from the last sell at 12.92. USERX closed above 12.92, at 12.97. The half cycle is over and prices are above 12.92, and we have just broken out over the top of the last run at 13.30 (today's close at 13.32). I sent a buy message to Premium subscribers on Wednesday (3/22) saying that I was going back up to 50% long (because 12.92 held on Tuesday) and then another message was sent this morning saying that I was going to 75% long. I actually went to 100% long by the close, initiated gold futures when they were down this AM (as reported), and have purchased more longs as they as down tonight. I am now supposed to be done issuing frequent updates/alerts/messages. The intermediate trend is supposed to be up for the next major leg of the bull. We've apparently broken through the 16-20 (15-19, composite) index sell signals from 3/6-3/7/06. After USERX goes to new highs shortly, there will always be a down day or two.
We're supposed to be done with trading conducted to try to avoid a correction, Jeff
Sept '06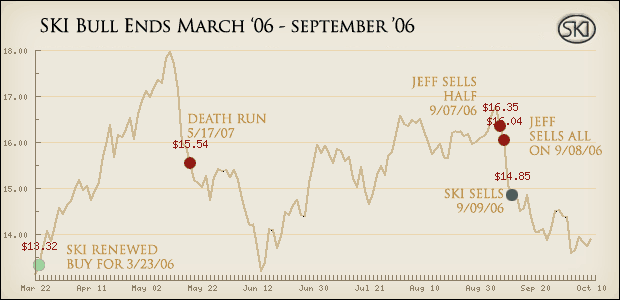 SKI BUY SIGNAL
SKI SELL SIGNAL
Jeff Sold
SKI Gain/Loss
Jeff's Gain/Loss
Buy Signal

3/23/06
$13.32


Sell Signal

09/09/06
$14.85

Jeff sells half
$16.35
09/07/06


Jeff sells all
09/08/07
$16.04
$1.53
$2.72

SKI Bull Ends at 84% Profit

» Buy Signal
Mar 23 06

» Death Run
May 17 06

» Jeff sells 1/2
Sept 07 06

» Jeff sells rest
Sept 08 06

» Ski says sell
Sept 09 06



© 2023 All rights reserved.
A publication of SKI Predictions