October 15th, 2002
Archived SKI Update
One day after I wrote that I probably wouldn't have to update again for awhile and that it was extremely unlikely for the gold stocks to drop the 5% needed to immediately negate the buy signal for today, it certainly looked like such a fall was occurring. And yet we had the 35-39 index buy signal to be executed at today's close. I couldn't tell whether USERX 4.01 would hold or not and I literally sweated as I bought, but a buy signal is a buy signal. USERX held, dropping 4.5% to 4.04. There is no sell signal for tomorrow, but USERX must rise 2 cents tomorrow to avoid a sell signal for Thursday's close. The market always seems to push the indices' limits. I am very scared, but I just keep saying to myself, "The index says buy, so buy, it's not your personal idea. You'll simply sell when the index says to sell. This type of buy signal, where the 35-39 index buys while prices are below the 16-20 index, has always made money, usually 20% but one time just 1%. These signals are supposed to come right at a low". Right, and I've got some great swampland in Las Vegas….
Reprint from 10/14/02: Gold stocks rose on Friday and again today, with USERX climbing to 4.13 and 4.22, respectively. The 35-39 index buy signal is on! We'd usually expect to get a 20% rise off of tomorrow's closing price, but whatever happens, the sell point is also clear and definitive. We'll sell on a 35-39 index sell signal. Those back prices are rising sharply starting tomorrow (4.23, 4.38 and then higher). Alternatively, if prices keep rising over the back 35-39 prices, a definitive sell signal and shorting signal will be when prices generate the XXed Out, off-the-path, 92-96 "buy" prices. On one historical ocassion the top was when current prices simply hit the back 92-96 prices. Those 92-96 back prices are currently at the early June high (6.54) and falling. In a month (the expected sell time) those back prices will be in the 4.86 to 5.23 range. I will write again as we approach either a 35-39 index sell signal or the 92-96 index signal. Hopefully it will be at least several weeks, in either case. I put all of my hard-earned risk money (all of my money outside of retirement funds) into these types of buy signals, so please, don't cause too much of a rise tomorrow as I buy! (smile). A down day tomorrow would be perfectly fine as long as prices don't fall 5%. A fall below 4.01 tomorrow (extremely unlikely) would be needed to immediately negate the buy signal. I will remove the reprints below, that led up to the current buy signal, on my next Update. Remember, a rise here sets up a potential true bull market, but this is just a trade. Please sell when the system says "sell".
10/10/02 Reprint: A perfect day today as USERX closed between the 4.02 and 4.04 specified yesterday! I was too busy to watch, but the gold stocks sank at least 3 % lower during the day, breaking through USERX 4.01, before recovering to close mixed to lower. It looked hopeless and then the buying came in. Today could have been the 35-39 cycle low. Furthermore, the 35-39 generated its "sell" signal for tomorrow. We are 35 trading days from the 8/21/02 low of 4.01. A tradable bottom will ONLY be confirmed when the 35-39 index generates a quick buy signal. We cannot get a buy signal tomorrow, but can get the signal on Monday for execution on Tuesday's close if prices rise to 4.08 or higher tomorrow and are above 4.09 on Monday. A very critical point. A failure to rise now would avoid the buy signal. I'm ready to buy, awaiting the confirmation, the signal.
10/09/02 Reprint: Gold stocks were mixed today. To keep the indices moving in the expected direction, USERX could not rise more than 6 cents today, staying below one of the 35-39 back prices, 4.13. In the last few minutes, the gold stocks sold off, with USERX closing up only 3 cents at 4.09. That yielded a –1 on the index for today, a +36 on the velocity, and final index score +24. The 35-39 back prices for tomorrow are 4.28, 4.20, 4.04, 4.06, and 4.01 (the last low). If prices fall to 4.04 or below, the 35-39 index will generate a sell for Friday. Such a "sell" is often a bottom, but it is not really bullish unless a 35-39 buy signal follows shortly. A subsequent rise on Friday cannot generate a buy signal. It looks like Monday may decide the issue. We need to drop tomorrow, hopefully holding above 4.01, and then rise slightly by Monday's close.
10/8/02 Reprint: Gold stocks fell moderately again today, with USERX dropping 21 cents (5%) to 4.06. Note that we are now well below the last 92-96 sell signal at 4.24 on 8/12/02. Today's fall was not surprising after yesterday's drop through the 16-20 index buy price at 4.44. The 35-39 back prices today were 4.20, 4.13, 4.28, 4.20, and 4.04. Therefore, we moved significantly towards the 35-39 sell signal with a –3 today! Tomorrow, the 4.20 drops out and is replaced by a 4.06. It will take a few more days to generate the 35-39 sell signal. Hopefully prices will only fall slightly tomorrow to below 4.04 (while staying above 4.01) to almost guarantee the 35-39 sell signal, ending the path's XXed Out (predicted losing) trade that started a day off the high at 4.96. If prices can then stay around 4.09 for a few days, the 35-39 index will generate a DEFINITIVE and highly profitable true buy signal. If the market fails to generate that buy signal AND falls below 4.01, the gold stock bear will be in full force. In other words, we're approaching another major critical point and I'm getting excited at a potentially superb system buying opportunity occurring within the next week. Note that my COMEX gold futures quote shows that December gold's low today was exactly at the price needed to fill in the up-gap that I have been mentioning, 318.5. There is no requirement that gold cannot go a little lower than that, but the downside gap target was filled today!
10/7/02 Reprint: Gold stocks fell moderately today, with USERX dropping 18 cents to 4.27. It was just yesterday that I indicated that I would Update again when prices rose to approach a 16-20 index sell signal or if prices fell to approach a 35-39 sell signal. I furthermore reported that it appeared UNLIKELY that prices would fall to the 35-39 index. So, instantly, prices fell enough to hit the 35-39 index and I am writing again! The 35-39 back prices today were 4.24, 4.20, 4.13, 4.28 (the wave 1 high from 8/15/02, the area of the "clear" 92-96 index sell signal), and 4.20. The market therefore fell perfectly to below that 4.28 high, hitting the 35-39 index.
I had also stated that it would be particularly bullish if prices fell to generate a 35-39 sell signal, but then held to generate a new, on-the-path, non-XXed Out, 35-39 index buy signal (a true buy signal). But the time for those events seemed to elapse on Friday, so I doubted that it would happen. Why? Because the 35-39 back prices would begin to FALL by tomorrow. Tomorrow the 4.24 drops out of the 35-39 back prices and is replaced with 4.04. Four other low prices between 4.01 and 4.09 then follow. Although today's drop broke the 35-39 index at a +3, it's now going to be extremely difficult for prices to fall enough to generate the 35-39 sell signal AND then immediately generate the hoped-for buy signal. It now looks like prices would need to fall to close to the wave two low at 4.01 (8/21/02) and then rise slightly to generate both the sell and buy signals within the next 10 days. Prices will need to fall and hold perfectly for that scenario to occur. Obviously, it still can do it, but the behavior needs to be perfect.
I hope that some readers used the 4.42 stop that I suggested yesterday. For those readers using a 9-day time stop, there are 6 more difficult days to go to see if prices will end up higher than the 16-20 index buy price of 4.44. Elliot wave theory clearly states that if we are in an up-trend, prices should not fall below the wave 2 low of 4.01. Note that if prices do fall below 4.01, prices would still be allowed to rise significantly (the new 35-39 index buy signal) before a further decline would be expected to occur. The gold stocks have continued to decline despite the resiliency of gold, which is not a good sign. Risk aversion appears to be the continuing order of the day in the markets and if you know me, I've been preaching risk aversion for more than one-year now. Be careful. The gold stocks are not in a true bull market (yet?). They definitively are set up for a POTENTIAL bull market in a few months from now, but my system remains on an XXed Out 35-39 index buy signal.
October '02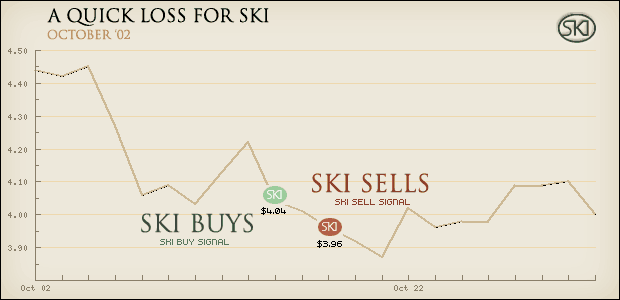 SKI BUY SIGNAL
SKI SELL SIGNAL
Jeff Sold
SKI Gain/Loss
Jeff's Gain/Loss
Buy Signal

Oct 15 02
$4.04


Sell Signal

Oct 17 02
$3.96

Oct 17 02
$3.96

$-0.08
$-0.08

A rare loss for SKI. Quick and painless.

» The Buy Signal
Oct 15 02

» The Sell Signal
Oct 17 02