July 11th, 2004
Archived SKI Update
Gold stocks rose this week, in textbook pattern with the SKI indices, into Friday's 16-20 index short-term sell signal. On Friday, USERX (the gold mutual fund) closed beautifully on its exact prior (5/27/04) high of 7.37 just as the index executed its sell signal (that had been generated the day before). The 16-20 index made an "enormous" 5%, the new ski composite pulled in a nice 8%, and chickenski made his little 3%. All just as predicted! I love when nausea turns into perfection because I actually enjoy watching the indices be accurate more than I enjoy making money. Nothing has changed from my perspective because everything has gone according to expectations. Now that the 16-20 index has sold, the following is simply a repeat from the last two weeks (and then new writings beyond that):
"The alternative time to sell is on a 35-39 sell signal. It will eventually occur and is a definitive stop. Those back prices are falling and won't lock in a profit for more than 36-39 trading days from tomorrow. This scenario is perfectly possible, allowing for a continuing rise lasting several months. The current formation involves a 16-20 buy signal coming right before a 35-39 buy signal. This double buy pattern allows for prices to break above the coming 16-20 sell signal, rise 20% and even hit the 92-96 index (above 8.00 for several more months). However, if one followed such a path (buying on the 35-39 double buy and holding until the next 35-39 sell), one would profit only 27-35 times. Six of the losses were only 1% or less, but 2 were 10% losers. Following this reasonable path means buying and holding on an intermediate-term basis (several months or more), expecting a continuing rise, a clear possibility (sorry, can't be definitive on this same critical issue).

If the triple sell is correct (and I'd bet my potato on that!) the 35-39 now looks likely to sell on Friday, 7/23/04, if prices fail to break out to new highs). At that time, a price below USERX 7.19 will generate a moderately dreaded (by the bulls) 35-39 index sell signal. Whenever the 35-39 index sell comes, do not remain long the gold stocks. It is a definitive stop. By 7/23/04, the 16-20 and 35-39 index back prices will once again invert or "cross-over" (the 35-39 back prices will be HIGHER than the shorter-term 16-19 back prices). That clearly is the next apparent critical period. Note that this period is 16-20 days from the high on 6/24/04 AND 35-39 trading days from the 5/27/04 high; that's the way nature has always been according to my research; this objectively marks the 5/24/04 high as being a LOWER high; A FAILURE AT THAT POINT WOULD MARK THE START OF ANOTHER IMPULSIVE LEG DOWN IN THE GOLD STOCKS. I will only 'know" that if and when the 35-39 index sell signal occurs. Until then, the intermediate trend can remain up."
Did Friday mark a high, or are the gold stocks going to bust through to the upside? Some measures closed over their 5/57/04 highs (e.g., Newmont), while others fell short (e.g., HUI), while the lovable and demented USERX gave no clues by closing exactly on the 5/27/04 high. And going over 5.37 for a day wouldn't mean anything useful to me anyway! I really don't know what will happen over the next two weeks, but I wouldn't want to be short gold stocks unless and until a 35-39 index sell signal is given. And if a 35-39 index sell signal is given, I clearly would mot want to remain long. The bears will say that USERX will be below 7.19 in exactly two weeks and sell the 35-39 index. The bulls say that the gold stocks will continue to gradually climb over the next 6 weeks to hit the falling 92-96 index back prices, perhaps right around the triple sell area of USERX 7.85. Nothing that happens this week is likely to change the above statements. It should take two more weeks for the market to tell its next tale to the SKI indices. Therefore I may not write next weekend, but may write before the following weekend as we approach 10 trading days from today...
P.S. I didn't take enough time to make sure that this Update was intelligible. If you understood it, that probably means that you've been reading these Updates for awhile. If you can't understand what I'm saying, you will over time, but for now: "Friday just marked something. May have been a high and that high would be confirmed in 2 weeks on a 3% fall. Otherwise it's gradually up another 7% over the next 6 weeks".
June '04 to July '04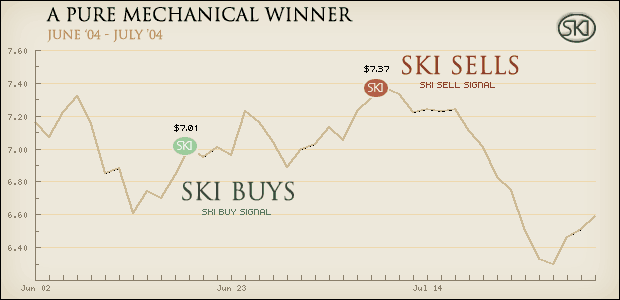 SKI BUY SIGNAL
SKI SELL SIGNAL
Jeff Sold
SKI Gain/Loss
Jeff's Gain/Loss
Buy Signal

Jun 18 04
$7.01

Jeff buys more
Jun 25 04
$7.16
Sell Signal

Jul 09 04
$7.37



Jul 09 04
$7.37

$0.36
$0.36

A pure mechanical winner with an additional, optional buy signal. Here are the orginal SKI Updates for this trade:

» The Buy Signal
Jun 19 04

» The Sell Signal
Jul 11 04



© 2023 All rights reserved.
A publication of SKI Predictions